There are healthy ways to have dessert without sugar. I never would have thought I could have a healthy chocolate brownie made from greens and legumes that's for sure!
The below recipe is not only densely delicious but its made from healthy ingredients such as spinach and black beans! And the best thing is when you are eating this yummy dessert, you can only taste chocolate brownie. You would never know it has spinach and black beans in it. It's perfect for kids lunchboxes and desert loving husbands. Don't tell them what they are made of and they will never know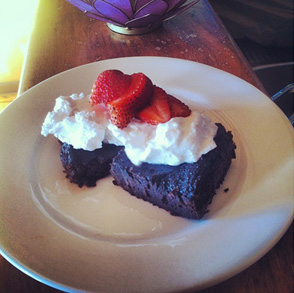 Spinach and Black Bean Brownies
1 tin (425g) of black beans
2 cups fresh spinach
12 (200gm) medjool dates, pitted
1 cup (250ml) water
½ cup (60g) cacao powder
1 tsp baking powder
½ tsp baking soda
1 tbsp pure vanilla extract
3/4 cup (100g) almond/buckwheat/spelt flour (
Preheat oven to 180'C
Blend dates and water until a think smooth paste.
Add fresh spinach to the paste and blend until smooth.
Add the beans and vanilla and blend.
Finally add cacao powder, baking powder, baking soda and flour and blend until batter is mixed evenly, scrape the sides of the blender and blend to ensure it is evenly smooth.
Place batter into 8×8 cooking pan and bake for 30-40mins until toothpick comes out clean.