With only 3 sleeps until Santa arrives my heart gets excited. Christmas buzz is in the air, and I know it's time to make my White Christmas Slice.
This is a easy, simple slice to make and its delicious. It makes a perfect Christmas gift, if it can leave the house before it being eaten!
Maybe I can save some for Santa. I wonder if he likes a healthy, yummy slice rather than a cookie?
Here's how it's made.
Ingredients:
1 cup (150 gms) roughly chopped cacao butter
1/2 cup (60 gms) raw cashews
1/2 cup (40gms) desiccated coconut
4 tbsp of pure maple syrup
1/2 tspn concentrated natural vanilla extract
1/4 cup goji berries
1/4 cup pistachios
Method:
Blend the cashews and coconut at high speed until it is a smooth paste. Set aside.
Melt the cacao butter over low 50'C degrees heat.
Add in to the melted butter, the cashew and coconut paste, vanilla and maple syrup.
Blend until well combined, to ensure it is smooth, increase the speed.
Pour the mixture into a loaf tin, and then evenly sprinkle the berries and pistachios over the top.
Place in the fridge to set.
Chop and enjoy.
Keep it in the fridge.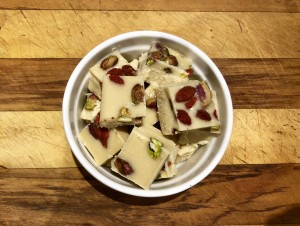 Courtesy to Wholefood Simply for this delicious Christmas slice recipe.