Creating your own granola at home is not only super easy to do but its also healthy for you. You can control how much sugar you do or don't put in, as well as the know quality of the ingredients.
The main ingredient to most granolas is whole oats. I prefer spelt oats over ordinary oats. Spelt oats can also be titled Rolled Spelt Grain or Rolled Spelt Flakes. The main difference between spelt oats and regular oats is that spelt is less processed than the regular oats you get from your local supermarket. Spelt oats are an ancient relative of the durum wheat that originated in the Near East over 8,000 years ago. Spelt has never been hybridized so it has retained many of its original characteristics from antiquity, including its complex flavour and whole-grain nutrition. I love the unique nutty flavour of spelt and because it's highly water soluble its vital nutrients are quickly absorbed into the body, more so than other forms of wheat. This means that for many people who have intolerances to wheat they are able to tolerate spelt. Spelt it not gluten-free, although it does have high fibre and protein and contain vitamins and minerals like folate, iron and manganese. A good healthy way to start the day.
The recipe below is using my favourite ingredients, but the great thing about granola is you can chop and change the ingredients to suit what you like. You can opt to cut out the oats and just have it as a nutty granola, just put a little less coconut oil.
I prefer it as a cereal in the morning with unsweetened almond milk plus some fresh fruit like banana or strawberries or some frozen berries on top, yoghurt or non dairy coyo yoghurt is also yummy too . Enjoy 🙂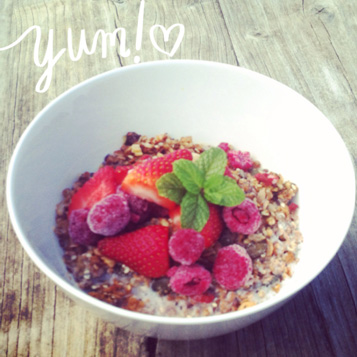 Sugar-Free Healthy Granola
2 cups oats (prefer spelt oats)
½ cup raw buckwheat
1 cup organic shredded coconut
1 tsp cinnamon (optional)
¼ cup sesame seeds
¼ flaxseed
¼ pepitas
¼ sunflower seeds
½-1 cup raw nuts crushed (I prefer almonds or cashews)
½ cup goji berries (optional)
3 tbsp chia seeds
3 tbsp raw honey
4-5 tbsp virgin cold-pressed coconut oil
Place baking paper on 2 flat baking trays and preheat oven @ 140'C
Place all dry ingredients except goji berries in a large bowl
Mix through then add honey and liquefied coconut oil
Stir through and then place on flat trays and level out evenly
Bake in oven for 20-30 minutes, checking and moving granola to unsure the heat is evenly dispersed
Remove from oven when granola is brown, wait to cool before adding goji berries and chia seeds, then stir through. Option to add other dried berries like blueberries, blackberries or sultanas