When a beautiful baby arrives into our world, they are pure. As mothers, we all try to keep it that way, not wanting anything to taint our little one's perfection. These things might range from harmful attitudes, emotions or physical harm. It can also include the chemicals that are rife in our environment. Baby showers are often filled with gifts of wipes and care products that we aren't sure are good enough to put onto virgin skin. While we don't want to wrap our babies in cotton wool or become too worried over what is good and bad, it helps to be informed of the best products out there to reduce any future harm.
The below are my favourites that I have used on my baby since birth and will continue to travel down this path of 100% natural and chemical-free products.
SKIN
Starting with the skin, for both myself and my son, we only use 100% organic virgin cold-pressed coconut oil. There are many brands of coconut oil in the market now, which is a positive for the consumer. Not all are organic or virgin and even less are cold pressed. Our favourite is Nui 'Wild Harvest' Coconut Oil. It's produced from Vanuatu coconuts, which are cold pressed to keep all of the goodness. It's great on your skin and smells lovely, as well as using for cooking and its tastes good too. It's also great to place a couple of drops into a warm bath.
Almond Kernel Oil is also another great natural oil that I would suggest placing on babies skin or in their bath if their skin is very dry or is showing signs of skin irritation such as psoriasis or eczema.
Sunscreen for both yourself and your baby: WotNot30+spf sunscreen is my recommendation. 100% natural sunscreen, which is gentle enough for babies. It's broad spectrum protection, UV-A and UV-B and is enriched with certified organic aloe vera. A positive is that it's also free from titanium dioxide which is unfortunately in most sunscreens. Also free from chemical UV absorbers, sulphates, petrochemicals, parabens, glycols and artificial fragrances and preservatives.
Another option in sunscreen when children start to spend lengthy times in the water and sun is Soleo Organics Sunscreen . As a surfer myself, all other natural sunscreens rub off when in the water for too long. Soleo stays on your face and doesn't wash off. It's organic and safe, and protects from both UV-A and UV-B solar radiation. It's also free of UV-absorbers, titanium dioxide, PABA, SLS, benzoats, parabens, artificial colours and fragrances and synthetic preservatives.
Vanessa Megan 'Big Off My Baby'natural mosquito and insect repellent is a fantastic roll on to have on hand at all times, especially in the Australian summer. Also good to take travelling. It's Australian made products that are free from mineral oils, parabens, PEGS, artificial preservatives, colours or fragrances. All Vanessa Megan products are lovely and I recommend them.
Nappy Rash
There are many good natural nappy rash options on the market now, which is great to see for our babies pure little bottoms. Using a chemical-free cream is the best option to place on such a sensitive area for babies. I recommend Natures Child 'Bottom Balm'which is made from all natural and certified organic ingredients.
Bathing
Often, we assume that since we may use a body cleanse or soap ourselves, we must use one for our babies. I believe that babies don't need any or little bathing products. The more natural and the less the better, just warm water and a touch of organic virgin coconut oil is the best option. If your baby is unsettled you can also place a couple of drops of pure lavender oil into the bath to calm them down. If you really want to use a product, or when they grow older, then I would suggest Gaia baby products, as I do use this brand for other reasons. It's a great brand which all products are free from parabens, soaps, artificial fragrance, petrochemicals and sulphates. I also feel the same with hair shampoo, less is more, babies don't need shampoo just water and lots of love and fun at bathtime
Wipes
Babies bums are constantly in need of a wipe. When you think about how many nappies you will change in a child's life that is also a lot of wipes needed. I was lucky to be introduced by a friend, who is a naturopath, to a homemade wipe option. It's as simple as making up a natural concentrate shown below and placing in a glass jar with a spoon to mix. Then using either a cloth wipe or face-washer or a paper towel/sheet to soak up the water concentrate and use it as a wipe. I find that Viva Towels are the best, as they soak up the water perfectly.
Home-Made Natural Wipes
Ingredients:
1 tbsp 100% pure virgin Calendula Oil
1 tbsp natural shampoo (I prefer Gaii)
2-3 drops either Lavender or Tea Tree Oil
1.5-2 cups of water
Place all in a glass jug or jar with a lid with a spoon to mix it up. The best thing is that its 100% natural and cost effective.
Of course I don't carry a jar around with me at all times, especially when I'm out or travelling. On these occasions I would highly suggest WotNot baby wipes. You can buy them in three different pack sizes.

WotNot Wipes are not only Natural and Organic but they are also 100% biodegradable and compostable, enriched with Australian Certified Organic Aloe Vera and are not tested on animals. And my favourite thing is that they are free from parabens, sulphates, petrochemicals, caustics, glycols and artificial fragrance.
WotNot is definitely my favourite. The Facial wipes are also great for us mama's too, made from Australian certified organic aloe vera, rosehip and sweet almond oil.  The second option if you can't get hold of WotNot wipes would be Bambeco wipes.
Teeth
Unfortunately in our society there are a lot of not-so-good toothpaste available for both adults and kids. For babies as soon as they get teeth and for kids I recommend Jack N JillToothpaste and Toothbrush.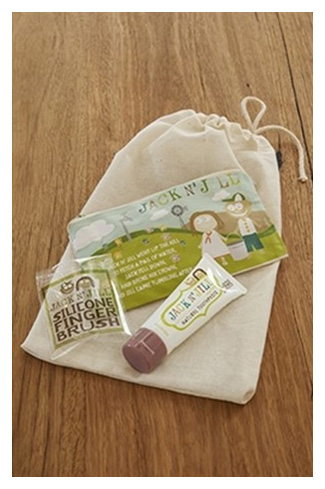 Its 100% safe for young children and is all natural, hypoallergenic toothpaste made with organic ingredients. All packaging is recyclable and BPA free, plus its super cute and inviting to young kids learning to brush their teeth.
As for the not so fun times of teething, Wedela produce a fantastic homeopathic baby 'teething powder' that works beautifully to help those teeth through the gums with less pain for our bubs.
Actually, Wedela have a fantastic range of baby products including nappy rash creams, nursing tea, nipple cream plus a lovely pregnancy oil that I used and loved. All Wedela mother and baby care products are natural and use Calendula as the main ingredient and have been developed in conjunction with doctors and midwives. Highly recommend checking this whole brand out.
If you are ever unsure of a product, firstly check out the ingredients on the back or the leaflet and if still unsure its always best to leave it out. Less is best . . . just use love and kisses instead.