Each day, as we get ready to head out of the house, we all put on our favourite deodorant and fragrances and cosmetics. Most are unaware of the products we use on our skin are often full of toxic chemicals. After using these products day in day out, it can then cause skin issues and other health related problems.
According to the National Cancer Society, "Reports have suggested that these products contain harmful substances, which can be absorbed through the skin or enter the body through nicks caused by shaving. Some scientists have also proposed that certain ingredients in underarm antiperspirants or deodorants may be related to breast cancer because they are applied frequently to an area next to the breast."
Since our skin is our largest organ, we need to take measures to ensure that what we put on it is as natural as possible. There are five harmful chemicals found in deodorant that can play a part in causing health problems: Aluminium Compounds, Parabens, Propylene glycol, Triclosan and Steareths. If you're looking for a new deodorant or perfume, check the back for these ingredients and avoid that product if they are listed.
Thankfully, there are plenty natural non-toxic options out there. My husband and I have personally tried more than 10 different natural options. After checking them out, I highly suggest the below 5 products:
1 – Axilla Black Chicken Deodorant Paste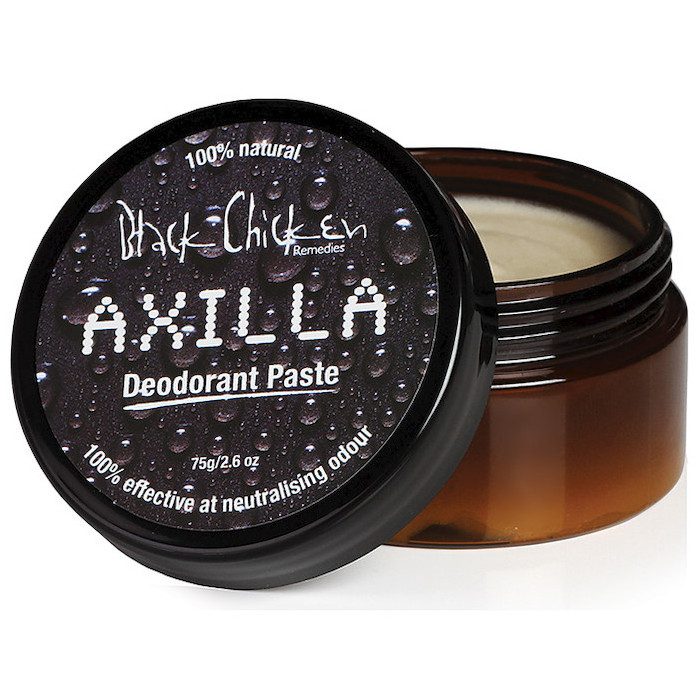 This unique blend of natural and organic ingredients target and effectively neutralise odour without harmful chemicals or sweat blockers. This means your body can continue to do what it does naturally without smelling funky.
This awesome deodorant paste:
* Contains only natural and certified organic ingredients
* Does note contain harmful Aluminium Salts or compounds
* Is completely invisible upon application
* Does not contain synthetic fragrances
* Contains pure essential oils and botanical extracts
* Does not contain alcohol, Parabens, Propylene Glycol, Triclosans or other harmful chemicals
* Vegan friendly and not tested on animals
* Made with love in Australia
This is hands down the favourite of deodorant for men and women.
2 – Schmidt's Deodorant Paste – Bergamot & Lime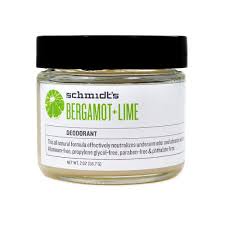 This is another good deodorant paste, but is a touch harder to put on in comparison to Black Chicken. The Bergamot & Lime is a zesty, refreshing scent. The paste is neurtralised, with the natural antiseptic properties. Free from Aluminium, free from crystals, yet keeps you fresh and does not block your sweat glands.
3 – Crystal Deodorant Roller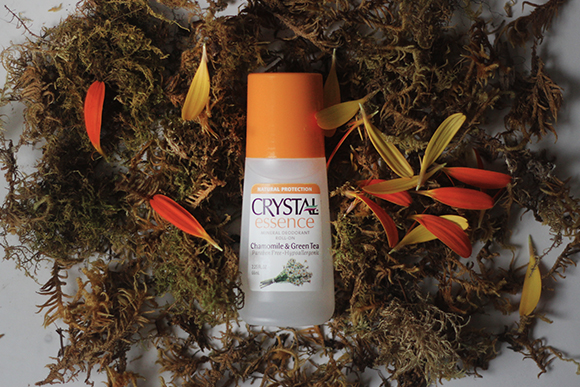 For those that prefer a roller over a paste, the only natural roller I can find that actually works is the Crystal Roller. It is made from natural mineral salts to neutralise bacteria and prevent body odour, even after strenuous activity. There are a few options of scent. My favourite is the Chamomile and Green Tea blend.
All Crystal deodorants have:
* No harmful chemicals
* No Aluminium Chlorohydrate or Zirconium
* Hypoallergenic
* Dries instantly
3 – DoTERRA Whisper Essentail Oil 

An easier option for perfume is using essential oils. This DoTERRA oil is my favourite, with a musky, warm, spicy, soft, sweet smell and people often comment on.
As stated from DoTERRA its primary benefits are:
Combines with each individual's chemistry to create a beautiful, unique, and personal fragrance
Provides a warming, musky aroma
Entices and intrigues the senses
The ingredients are :- Fractionated Coconut Oil, Patchouli Leaf, Bergamot Peel, Hawaiian Sandalwood Wood, Rose Flower, Vanilla Bean Absolute, Jasmine Flower, Cinnamon Bark, Vetiver Root, Labdanum Leaf/Stem, Cocoa Seed, Ylang Ylang Flower
4 – DoTERRA Balance Essential Oil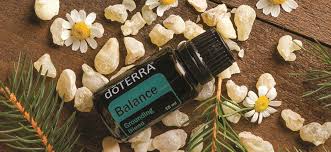 This DoTERRA essential oil is also a good option for perfume. It's more of a fresh, sweet and woody scent and one I like to use when I am feeling out of balance 🙂
Its primary benefits are
Promotes a whole-body sense of relaxation
May help ease anxious feelings
Evokes feelings of tranquility and balance
The ingredients are:- Spruce Leaf, Ho Wood Leaf, Frankincense Resin, Blue Tansy Flower, Blue Chamomile Flower, and Osmanthus Flower essential oils in a base of Fractionated Coconut Oil.
Do you have a Deodorant that you love and its not on this list? Please share your favourite.